Even though most of my quilts are sewn on the sewing machine, there's something nice about being able to sew from the comfort of the couch or the rocking chair, so I've got a handsewing project going on right now: The Christmas Quilt. It's not going to be a very big quilt ... but it's been fun.
It's been fun to get little bits sewn together during little bits of time. It's turned into a neat project, preparing for, and looking forward to, Christmas.
So far, so good. I'm almost done with the hexagons-part-of-the-quilt. Then I'll put it onto some sort of backing ... If it's done by Christmas, I'll snap a picture for the blog.
The nice thing is that, at least for now, it's a very portable project, since it fits in my favorite tote bag. It's one of my crocheted-plastic-bags tote bags. But that's another post for another day.
P.S. A few days after posting this, I found out about
Fabric Tuesday
at a blog called
Quilt Story
- Their Fabric Tuesdays are a place to share current projects, and be inspired! So I'm linking this post to this week's Fabric Tuesday!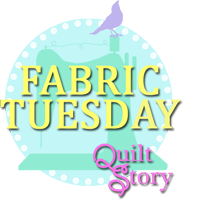 Update: To see the English Paper Piecing Hexagons quilt finished, go to this post: Finished Christmas Hexagons Quilt.