On my English Paper Piecing, I made one whole star this week. Yay. (Compared with a whole bunch of stars
last week
! Oh, well.)
On the bright side, though, I decided something important and got started on that: The edges. I decided what to do for the edges around the diamond-star-hexagons. More diamonds! (Big surprise, huh?) Diamonds in a bunch of different whites and creams.
I'm going for solids for the edges, no prints. I'm loving the subtle variations in texture and color. I think it works well with the vintage inspiration.
So, this week, I cut a ton of fabric diamonds in white and cream.
This is the perfect use for my stack of miscellaneous white and cream fabrics ... (In fact, a friend recently gave me some leftover bed sheets that nobody is using ... lots of white and cream. Wonderful! Just right for this project! And, I'm barely making a dent in the stack ... more projects in the works, as always!)
While I was at it, I cut some white and cream squares and rectangles for the continuation of my
Leaders & Enders
project ...
So, overall, I'm pleased with getting some progress made on the English Paper Piecing project. We'll just call it the "Vintage-Inspired" diamonds quilt, since the percentage of "actual" vintage in the project keeps changing ... but I'm totally OK with that, and I'm enjoying the look of this quilt already!
Quilty inspiration from other people's projects has made me a better quilter. I love to get ideas and inspiration from other people's work, and to share any tidbits I can. So ... when I can, I add links at the ends of some of my posts, to places where people are sharing their work. I'm linking this post to
Little Quilt Monday
and, when Tuesday comes, to
Fabric Tuesday
. (Links for this week are below.)
Elizabeth at
PiecefulLife
has a fun Little Quilt Monday link party every week. Check out
this week's Little Quilt Monday
for some other quilters' neat projects happening there. (You have got to see the little quilt Elizabeth blogged about this week - she made it from a Bobbin Lace Doily! Brilliant!)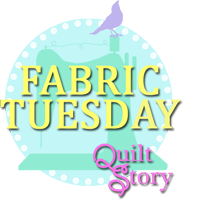 Here's the link for this week's Fabric Tuesday at Quilt Story!